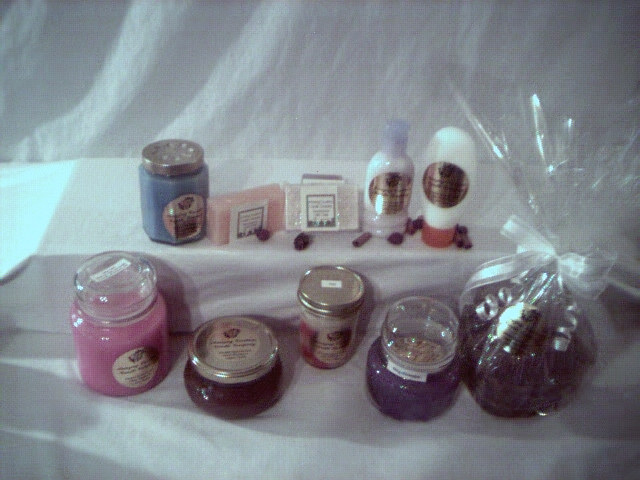 We will only have 1 meeting in 2004! I hope to see you there!
For 2004 we have only two meetings in Texas planned and I hope to see all the friends I've made from past meetings, plus make new ones Last year we brought over 60 candle & soap makers together, don't miss out this year!!!! Sign up now for friends, fragrance, fun & food! Smell before you buy! Don't get stuck reading about it on the boards!!!
In Oct. we meet Doneen from Bitter Creek! JT from Wax Wagon shared info on distrubutorship programs! Anna gave wonderful website advice! Dan from Wick Ware joined us & more!!!!!
AT EVERY MEETING
What we will have at each meeting!!!!!!!!
Door Prizes: This year we will have a door prize for who ever refers the most new people just be sure they tell me you sent them. They can be from boards,groups or local friends!!!!!
Also we will have a door prize for anyone doing demos. Plus whoever contributes most with suggestions and creative input!!!!!
Something New!! Bring a sheet with you favorite Recipes around 10 copies! We're all busy and always looking for something new!!!!! We will pick and choose those we want!
A product swap : bring soaps , lotions,ect valued between 3-5 dollars & leave wilth different ones ( # will be announced once I know how many wish to take part)

Fragrance sample swap: bring 5 one ounce samples & we will take turns picking one from the table until we all have 5 new ones

Product sale & exchange : bring as many of your products as you wish to sell or exchange with others

Supply Sale & exchange: Over order? More supplies than time? Bring these items with your name & prepriced to sell or trade!!!!! Tip: Bring change for this event

Meet the suppliers: You will have a chance to chat with suppliers & make suggestions to them!

Demos And Presentations:
Pinecone Firestarters: JT Burnett, JT will show you how to make these wonderful firestarter
Distributor Program and Wholesaling To Merchants: JT Burnett
How to Make Neat Time Saving Helpers: Al, Al has some wonderful tips to save you time & money!!!!
Wick Centering Demo: Robert will do a demo for us showing the lastest products!
Firestarters with cups and filler: Stacey Mitchell, I see lots of post asking about!!
Incense: Stacey Mitchell, These are wonderful & inexpensive to make!!
Gift Baskets: Stacey Mitchell, Pricing & design tips!!
I will add new demos as they come up

Question & answer session: something not working just right or can't seem to get to get it down? Found a great tip you want to share? This will be the time for that!!!!!


2004 Dates and Locations
Our Spring meeting will be on Sunday March 21, 2004 10:30am-1:00PM in Lufkin,Texas! Location to be announced!
Miles from you: Houston-102, Dallas/FW-160, Tyler-85, Beaumont-100 and Boosier City,LA-115 !You can get directions from www.mapquest.com Lufkin's zip code is 75901! Lufkin has golf, malls, lakes and much more!!!!
email me at candlemeeting@yahoo.com !
Fee for each meeting will be only 20.00 per person/supplier! You may pay using www.paypal.com or mail a check or money order payable to Stacey Mitchell to : Candle Meeting PO BOX 3491 Lufkin Texas 75903 ! Payments are due 2 weeks before meetings. There will be no refunds once your space is reserved. Space is not reserved untill payment is recieved. Thank you!
Got more ideas let me know ASAP! candlemeeting@yahoo.com
Door Prizes & Goodie Bags Will Include

As items arrive I will be posting them here!! So check back often!!!!!!
Soap Molds & Fragrance Including: Melon Tea, Almond Biscotti, White Tea & Ginger ( 4oz Bottles ) Plus more From Bramble Berry
MultiBase & Fragrance Samples Including: Lilac, Summertime Melon, Ginger Peach & More from Nature's Bouquet
2004 Supporting Suppliers

Supporters for this years meetings will be posted starting in January!
Candle Wic- www.candlewic.com Candle and Soap Making Supplies
Wick Wares- www.wickswares.com Complete Candle Supplies and more
Scents For Soy- www.scentsforsoy.com Wonderful fragrances for soy & More
Soapymomma- www.candlesandpotpourri.com check out these cool embeds and potpourri!!!!!!
Brambleberry- www.brambleberry.com Candle Supplies
A1 Gel Candles- www.a1gelcandles.com Great supplies
Magical Memories R Us- www.magicalmemoriesrus.com Check out their great software just for us. Keep track of supplies, inventory, cost, suppliers & more!!!!
The Scent Shack- www.thescentshack.com A big thanks to John for 3 years of support! Great stuff!
From Nature With Love- http://www.FromNatureWithLove.com Potpourri, soap, candle supplies & more!!!!!
Natures Bouquet- www.naturesbouquet.com Lots of great stuff!!!!
I love these meetings and have made so many friends over the years! I hope to see them all in 2004!

No refunds after your space is reserved! Thank you & I look forward to meeting & sharing with you!

LOOK WHO ALL WILL BE THERE! WILL YOU??? SIGN UP NOW!!!!!
**These meeting are a lot of work , but I love them! Don't miss out on the fun & read about it later!

Reserve your spot TODAY!!!!!!**
Don't Forget To Visit The Scent Review